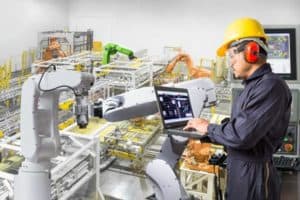 It's official, we are in the middle of the Manufacturing age of software evolution. Do we invest in new technology (i.e. CRM) and risk scaring away our seasoned employees? Or, do we dare to show our legacy ERP solution to a millennial that has grown up with eyes glued to mobile devices and social media? Ultimately, owners of these companies are faced with some difficult, and often first-time decisions about investing in technology to help them revolutionize Customer Service, Sales and Marketing.
With over 10 years of experience helping Manufacturing companies implement CRM solutions, I figured it was time to put together a 3-part blog series around how I would approach these challenges if I were calling the shots at a Manufacturing organization. Naturally, I'm biased to best in breed CRM platforms that I trust, so I've given this series the namesake: Salesforce® for Manufacturing – Let's get it right!
Part 1: Getting your Team Ready for Success
My goal with this series is to put-to-rest many of the fears (and mistakes) that I commonly see organizations make and face when evaluating and implementing Salesforce. Let's get going!
Part 1: Getting your Team Ready for Success with Salesforce
You've decided that you can no longer operate your Sales, Marketing, and Customer Service solely from within your ERP system – so, you start to consider Salesforce, and at that point many companies are entering uncharted territory.
Traditionally, the scars from a difficult ERP implementation or upgrade shine bright at this point, or perhaps the proverbial failed CRM deployment is looming in the background – "never again, we are going to get it right this time" is the battle cry. What's nice is that a CRM implementation is not the rigid and strict experience that an ERP deployment serves up, and most failed CRM deployments in Manufacturing are rooted in a disconnect between CRM implementation and the user's true needs.
Back to the point, what should you do first as you start your Salesforce journey?
Assemble the CRM Task Force:
This team will represent their respective department and users. Consider a team of 3-8 people with a mixed representation of Executives, End Users, and Outside Eyes (maybe not directly involved in using CRM, but knows a lot about the company). You'll notice this team isn't called the Implementation Task Force – keep this team together after implementation (even if just for a quick quarterly meeting) to drive continuous improvement with Salesforce.
Define Project Charter:
Value statement that can be relied upon when the group needs to be re-centered around priorities. It's easy to fall into a cascading thought process of unnecessary complexity during an evaluation or implementation – the Project Charter will help to simplify.
What Business Processes Need to be Supported?
Focus on the high-level business processes that need to be represented. Like you'd rely on a contractor during a home remodel, let the Salesforce implementation experts worry about how to best handle the finer details. For example, we need our CRM to handle "lead capture and distribution" or "deal management in relation to Manufacturing Reps".
What are Your Head Scratchers?
My favorite exercise during the early stages of a project is to have the CRM Task Force each define 3-5 Head Scratchers – something that you do on a daily basis that really makes no sense or has to be inefficient. Here's a few examples:

Why do I have to wait 2 days to get a Year-to-date Sales report for one of my Accounts
Why do we make weekly Excel reports?
Why can't I access information from my mobile device?
Why do we write Work Orders on paper, then type them into another system?

Set Expectations Internally
Don't expect everything to be perfect immediately. Good CRM solutions solve for very complex relationship and process challenges, and this requires iterations and evolution. Sure, you should hold all parties involved accountable for their implementation (partner) and system adoption (users/executives), but alarmist responses to little things are not productive. Provide a clear protocol for communication when an issue or suggestion is identified, and set expectations that the communication channel is there because we expect challenges and are prepared for it.
Involve a Partner 
Don't fall into the trap of feeling like you need to have everything figured out before involving the experts. Focus on the items above, and allow a Salesforce Implementation partner to help transform your needs into requirements.
We'll pick up on User adoption and ERP integration next time, but in the meantime, feel free to reach out if you have questions or want assistance – Happy CRM'ing!
Part 2 of the Blog Post Series "Salesforce for Manufacturing": Part 2: User Adoption – You can't spell it without E.R.P (Us__ Ado_tion?)